XJY-703
Heptamethyltrisiloxane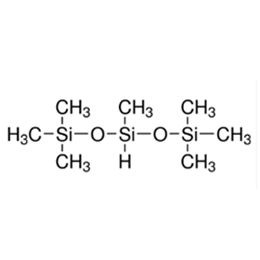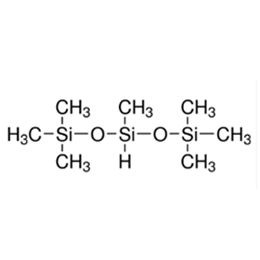 Other names

BIS(trimethylsiloxy) METHYLSILANE / 1,1,1,3,5,5,5-Heptamethyltrisiloxane

CAS Number

1837-88-7

Formula

C7H22O2Si3

Appearance

Colorless transparent liquid
Specification
XJY-703 Heptamethyltrisiloxane is a reactive silicone chemical containing silicon hydride functional groups.
Heptamethyltrisiloxane is mainly used as an intermediate for hydrosilylation of olefin-containing organic compounds.
A variety of Heptamethyltrisiloxane is used in many different markets, including agriculture, cosmetics, coatings and polyurethane foam.
| | |
| --- | --- |
| Brand | XJY-703 |
| Appearance | Colorless liquid |
| Purity (%) | ≥99.0% |
| Density(25℃,g/cm3) | 0.80~0.83 |
| Refractive Index | 1.3800~1.3900 |
Application
XJY-703 Heptamethyltrisiloxane contains highly reactive silicon-hydrogen bonds and it is the basic material for synthetic polyalkyleneoxide modified heptamethyltrisiloxane, which is a kind of specific structure surfactant for pesticide additives, coating additives, etc.
Packaging
XJY-703 Heptamethyltrisiloxane is available in 170kg plastic drums. Packaging options are available upon request.
Storage

Stored in a tightly closed container in a cool, dry place. Transported as dangerous products.
FAQ
Documents
Related Products