1. Concept
RTV, the abbreviation of room temperature vulcanizing silicone rubber, is a liquid silicone rubber widely used in bonding, fixing, sealing, potting, heat conduction and coating in electronics, electrical automotive and general industrial fields.
2. Classification And Curing Principle
1) Classification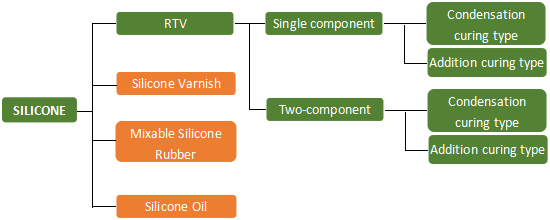 ①Condensation curing type
Contact with moisture in the air at room temperature to cure into elastic silicone rubber, divided into single components (1 – P) and two-component (2-P). According to the structure of curing by-products, single-component RTV can be divided into Oxime, Alkoxy, Acetone and Acetoxy.
②Addition curing type
The elastic silicone rubber cured by heating or room temperature can be divided into the single component (1 – P) and two-component (2-P).
2) Curing principle
Condensation reaction: the crosslinking agent will undergo hydrolysis reaction when encountering moisture in the air and cross-linked with polymethylsiloxane (- Oh hydroxyl-terminated) under the action of the catalyst.
Addition reaction: curing agent and vinyl (-CH=CH-) silicone oil are cross-linked under the action of the platinum catalyst.
3. Component
| | | |
| --- | --- | --- |
| No. | Name | Property |
| 1 | Polymethylsiloxane | Process vulcanization |
| 2 | Crosslinking agent, Catalyst | Process vulcanization |
| 3 | Filler | Mechanical properties such as bonding and stretching |
| 4 | Additive | Improvement of flame retardant and other personality characteristics |
4. Advantages And Characteristics
Due to its unique molecular structure, RTV silicone rubber determines its excellent thermal stability, elasticity, moisture resistance, dielectric stability, adhesion to the substrate, low ion impurities and compatibility with processing technology in the harsh working environment, which provides a reliable guarantee for the long-term service life of electronic and electrical products.
Compared with traditional polyurethane and epoxy resin materials, RTV silicone rubber has obvious advantages. The comparison is as follows:
| | | | |
| --- | --- | --- | --- |
| Property | RTV Silicone Rubber | Polyurethane | Epoxy Resin |
| Structure | | | |
| Weather resistance | Excellent | Average | Poor |
| Acid and Alkali resistance | Excellent | Average | Poor |
| High and low-temperature resistance | -50~200℃ | -50~150℃ | -30~120℃ |
| UV resistance | Excellent | Average | Poor |
| Ozone resistance stability | Excellent | Average | Poor |
| Water absorption | Low | Medium | High |
| High-temperature insulation | Excellent | Average | Poor |
| Elasticity | Good | Average | Poor |
5. Low Volatile Siloxane(D3-D10)
Low volatile siloxane (LV), that is, low volatile small molecular siloxane, is a small molecular ring substance released during the synthesis of silicone raw materials, with molecular formula [(CH3) 2Si O] n (n = 3 - 10)].
As early as the mid-1970s, Yoshmura of Japan's Jateishi electronics company found that due to the residual small amount of low molecular polysiloxane in silicone rubber, when its products are used in electronics and electricity for a long time, especially under harsh conditions, it is easy to cause electrical contact failure.
Low volatile siloxane (LV) exists in RTV, which will be slowly released in the form of gas during and after curing. In a closed system, they will eventually stay on the PCB surface, components, sockets, switches, optical mirrors and other positions of RTV silicone rubber, which will lead to obvious or potential hazards, such as failure of electrical connection points, fogging of LED and automobile lampshade mirrors, short circuit of switches, failure of silk screen printing ink adhesion and so on.
LV is one of the most unfavorable factors restricting the application of silicone, and high-reliability products such as military industry, aviation, aerospace, medical electronics, and optoelectronics have strict requirements on it. With the deepening of people's understanding of product quality and reliability, more and more foreign customers have begun to pay attention to low-molecular-weight issues.
6. Application Fileds
RTV silicone rubber is widely used in the military industry, aerospace, electronics, electrical, solar energy, led, flat panel display, switching power supply, home appliances, PCBA and other occasions.
Automotive electronics applications and product development
7. Application Trend Of RTV Silicone Rubber In Automative Field
• Hybrid vehicles and lithium battery-powered vehicles

• More electronic control unit applications, more intelligent, new customer requirements

• Better heat management and longer service life

• New silicone products that can withstand more demanding environments

• Heat dissipation bonding, heat dissipation potting

• Fluorosilica gel, chemical resistant
Trend: safer and more comfortable
• new safety regulations
• more applications of electronic control units and sensors
• new customer requirements for the LED light source
• longer-term, more stable adhesion protection requirements
• new silicone products for more demanding applications
• higher performance bonding and potting materials
• better chemical resistance requirements
Application Case

PDC: Parking Distance Control

• Waterproof

• Excellent adhesion

• Deep curing

• Good flow performance

Tire pressure sensor

• Chemical resistance

• Soft gelatin, but with a certain intensity.

• Excellent adhesion

Circuit board protection

• Ultra-low viscosity

• Rapid curing

• No UI by-products T8507
XJY Silicones
XJY-8206 VMQ resin series silicone products provide detailed solutions for electronic component assembly and industrial assembly of RTV silicone rubber. Choosing the right product mainly depends on the customer's manufacturing process, operating requirements, curing conditions, equipment, and material performance requirements.
XJY Silicones as one of the leading silicone manufacturers is a new enterprise for silicone resin innovation and R&D, with more than 30 years of experience in the silicone industry. Our manufacturing, R&D, and sales services had obtained the ISO9001 certificate.